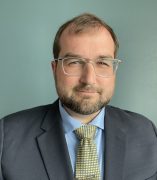 D. Scott Tharp
Associate Director
Academic Program Review and Assessment
Pronouns: He/Him/His
Contact
Address:
601 S. Morgan St., 2630 UH, Chicago, IL 60607
Office Phone:
Email:
About
Scott Tharp is the Associate Director for Academic Program Review and Assessment at the University of Illinois Chicago. In his role, Dr. Tharp enhances students' educational experience by partnering with academic degree programs, institutes, and centers to regularly assess student learning and implement campus-wide review processes. Prior to his current role, he served DePaul University as the Assessment and Effectiveness Specialist in the Office of the Vice President for Student Affairs, and as the Associate Director in the Center for Intercultural Programs and Office of Diversity Education. Dr. Tharp currently serves on the national leadership team for NASPA's Assessment, Evaluation, and Research Knowledge Community as the co-Chair for the Professional Development.
Dr. Tharp is an active scholar-practitioner and educational interventionist. His research interests focus on the development and assessment of social justice education curriculum and pedagogical practices. Scott has published scholarly articles in the Journal of Transformative Education, Multicultural Education, Multicultural Perspectives, and Whiteness in Education. Additionally, he is the author of two books, Doing Social Justice Education: A Practitioner's Guide for Workshops and Structured Conversations (2020), and Decoding Privilege: Exploring White College Students' Views on Social Inequality (2022). Dr. Tharp is a regularly invited presenter at the National Conference on Race and Ethnicity in American Higher Education (NCORE) where he served as a member of the National Advisory Council from 2014-2017.
Dr. Tharp received his Ph.D. in Curriculum Studies at the University of Illinois Chicago, M.S.W. from the University of Michigan Ann Arbor, and B.A in Sociology and Philosophy from Elmhurst College. He holds an appointment as Affiliated Faculty in the MSW Program at DePaul University.